Smart Enovations is a complete services and solutions provider from concept design to manufacturing support to various global automotive, and General manufacturing industry. Smart Enovations offers expertise in complete (vehicle) product development in all automotive and segments with a unique combination of engineering skills, development experience and application know-how with a drive to innovate and create new products at sustainable cost. Based on the excellent exposure our tooling and manufacturing domain experts had on global projects, we have the capability to take up end to end solutions from Design to Delivery.

Our services range from Prototype, Tool design to manufacturing of various components, Sub-systems and Systems in Automotive, and General Engineering domains include -
Prototype Support
Tool Design
Manufacturing Support
Reverse Engineering
Prototype Support
Our manufacturing facility is equipped with state of the art CNC machines and tools to quickly and efficiently fabricate all types of proto-type components and assemblies and tools. Engineers take the feasibility and manufacturability in to account while developing concepts and design. Experience with the tooling and machines at the shop floor has helped our engineers to develop concepts and products which simplifies manufacturing, assembly, maintenance and serviceability requirements.
Rapid proto type
Silicon rubber moulding
Machined prototype
Prototype from Soft tooling
FRP models
Tool Design
Smart Enovations is your tool Room partner to engineer complex sheet metal dies, Plastic Injection molds and Pressure Die casting dies to your requirements. We will support your efforts by being an extension to your Tool Room.

Our engineers have the capability and experience in designing various tools for Automotive,and General equipments.

Mould Design for plastics
Smart Enovations has the capability and expertise to efficiently handle various stages of mould design for complex plastic parts. Our SME's experience in dealing with different engineering plastics involving undercuts, side cores, hot runner systems enable us to exceed customer expectations. Expertise on Mould flow analysis will help to decide the right gate location. Flow, fill, cool, warp and shrink analysis will give the right direction for optimum design.

Various types of mould design
Injection moulding
Compression moulding Vacuum moulding
Thermoforming
Rubber moulding
Die Engineering
Smart Enovations is specialized in Die engineering to provide manufacturing support which includes Complete Formability Analysis (Simulation), Part Feasibility Report, Trimline Optimization, Spring Back Compensation etc using AUTOFORM R7.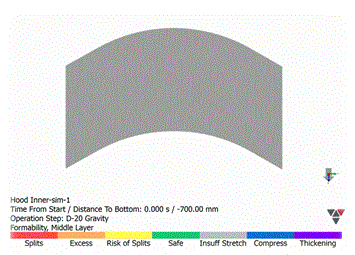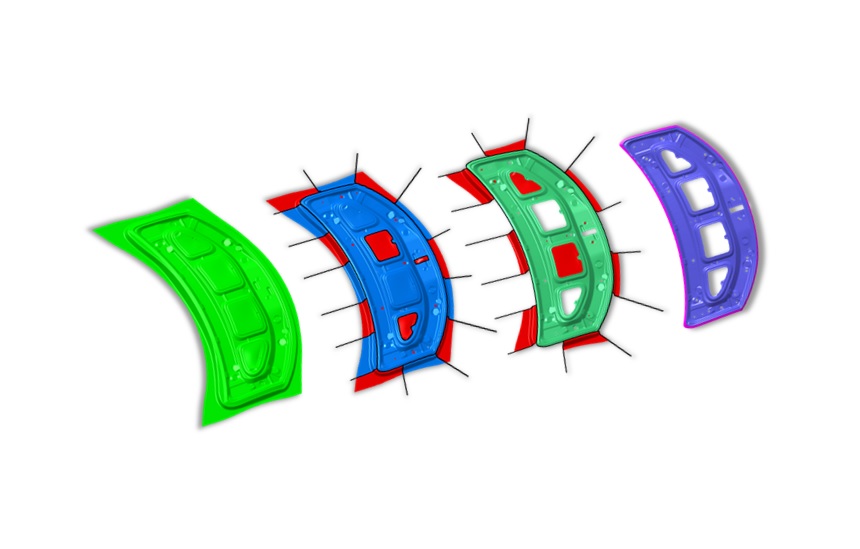 Die Layout / Process Plan / Strip Layout
As an additional support, Smart Enovations is also specialized in 3D / 2D Die Layout or Process Plan in NX & CATIA V5 with all the required surfaces and detailed information required for Die design.

Die Design
Smart Enovations with its dedicated team for Die Design, Specializes in the Complete Die designs for Transfer dies, Auto and Manual Tandem dies, Progressive dies. We have the capability to adopt to different customer standards in terms of Die design constructions. We further support for generation of BOM, 2D Assembly and detail drawings using NX & CATIA V5.

Simulation Capabilities
Part Manufacturing Feasibility Study
Tools Generation
Process Generation
Simulation
Part Formability improvement
Trim line Optimization
Spring Back Analysis
Report Generation
Final Tools Generation using Cad Softwares.
Die Design Capabilities

Method Plan/Process Plan
Strip Layout
Draw Development/Die Face Creation
Design of
Blank Dies
Draw Dies
Restrike Dies
Trim and Pierce Dies
CAM dies
Design of Progressive Dies
Design of Tandem and Transfer Dies
Generation of BOM (Bill of Material)
2D Assembly and Detailed Drawings
Analysis:
Formability Analysis using Autoform
CAD Software :
Aluminium Die Casting
Apart from Plastic Injection Moulds and sheet metal die design, we have the capability to design and manufacture Aluminum Pressure Die Casting Dies. Also we can (CNC) machine Aluminium Proto parts from solid Aluminium blocks using CNC for testing and assembly. Once the Aluminium Proto part (from solid Aluminium block) is approved by customer, we can go ahead to design and manufacture the Pressure Die Casting Die.

Following are our strength area in Aluminium Die casting area
Gravity die casting
Pressure die casting

Jigs & Fixture design
Jigs and Fixtures play an important role in accurate assemblies of modern products. These minimize the assembly time as well as ascertain repeatability. Our engineers have worked in large manufacturing units and bring in huge experience in carrying out the exercise to design and develop required Jigs and Fixtures. Our expertise include:
Feasibility Analysis & Preliminary Layouts.
Annotations for MCP - PLP on CAD data.
Fixture Layout & Design.
Simulation of gun Accessibility in Fixture.
Fixture Manufacturing.
Fixture Tryout & Implementation.
Manufacturing Support
Using our Prototype Shop we can provide initial manufacturing support to our customers. This helps our customers to iron out any manufacturing problems before they go for full fledged manufacturing of their product. Difficulties faced during this phase help in improving product design as well as reducing manufacturing cost and time.
NC programming

CNC part programming
Methods planning


Precision Machined Part
Manufacturing of dies
Manufacturing of moulds
Manufacturing of component machining
Reverse Engineering
At Smart Enovations, we carry out reverse engineering of various systems and sub systems on different CAD software's as per customer requirement. Extensive exposure to most complex geometry like cylinder head and crank case give us an edge over others. Our team also has good re design capabilities, which gives the proposed design the best possible functional value along with good value for money and generate good production drawings with GD&T
Scanning

Optical measurement ( Points)
Contact probe measurement (points/curves )
Laser Scanning ( Cloud of curves)
White light scanning (cloud of points)


Surface Generation

Catia, Pro/E, UG, Solid Edge, Solid Works


Verification with Base Line Design


Re-design and drawing generation

Design Changes request
Design improvements


Prototype